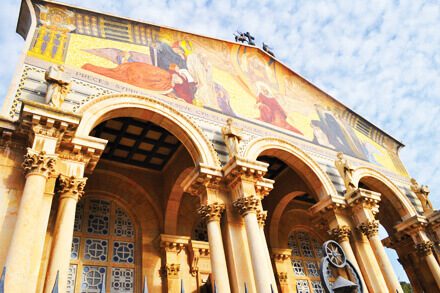 Postponed: Holy Land Pilgrimage
November 8 – 18, 2021

If you were booked on the 2021 trip,
206 Tours will contact everyone to update your booking. See their website for details.

New Dates for 2022
November 7 – 17, 2022
Join Father Eric Hill and Father Fernando Molina-Restrepo to grow your faith and deepen your relationship with God on a 206 Tours Pilgrimage! Make your way through the Holy Land to experience Him, follow in His footsteps, and see Him in the works He performed – your footsteps will become His. Celebrate votive Masses in the very places where these miraculous gifts became pages in the Gospel. See where He was back then, and feel how He is still there today!
Tel Aviv · Caesarea · Stella Maris (Haifa)· Nazareth · Cana · Tiberias · Sea of Galilee · Jordan River · Mt. Tabor · Jericho · Jerusalem · Temple Model · Ein Karem · Bethlehem · Bethany · Dead Sea · Mt. Of Olives · Gethsemane · Mt. Zion (Upper Room) · Western Wall · Via Dolorosa · Church of the Holy Sepulchre
See the full details at
https://www.pilgrimages.com/poptransfig/holyland/