---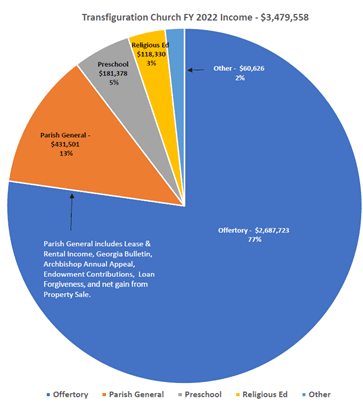 Transfiguration Church – Financial Activities Review Summary FYE June 30, 2022
Overall FY 2022 Results
For the fiscal year ended June 30, 2022, Transfiguration Church total income from parish activities was exceeded by total expenses resulting in a net deficit of $29,235 across all operational segment categories. A summary of the financial results for the major activity segments is provided below for both "Income" and "Expenses."
The parish realized total income of $3,479,558 for fiscal year surpassing its budgeted income by $716,091. Concurrently, total parish expenses were $3,508,794 exceeding budget by $761,446. The increased expenses were primarily due to capital and repair expenditures in Facilities assets and to the purchase and renovation of the new Rectory. Some of the capital expenditures were anticipated as noted in the financial summary review report for the previous fiscal year.
The purchase cost of the new rectory is a nonrecurring item. Among the more significant expenditures:
• Purchase and Renovation of New Rectory
• Church Building Roof Replacement (Admin Offices and Classroom sections)
• Church Sanctuary Audio Soundboard and Video Lighting systems
• Building Glass – Phases 1 and 2
• Parking Lot – Top coating and Exterior Lights
• New Gator Maintenance Vehicle
• Bell Tower Carillon Bell Replacements
• New Safe and Reworked Confessional
As noted above, Income surpluses offset the overage in capital expenses to a large degree.
Notable income sources included:
• Offertory Donations
• Other Parish Collections (Extraordinary, unexpected donations)
• Gain on Sale of former Rectory Buildings. (The net effect of the rectory assets sales and purchase was positive income)
• Archbishop Annual Appeal rebate
Given the substantial level of expenditures incurred on the church Facilities and Rectory assets over fiscal year ending June 30, 2022, the overall net deficit of $29,235 (less than 1% of total income) is remarkable. Much progress has been made in updating our campus this past year without the need for a capital campaign through strong stewardship employing efficient maintenance and improvement strategies as well as competitive bidding.
FY 2023 Expectations
For the current fiscal year ending June 30, 2023, the parish budget outlines $3,002,155 in income sources to support its operational expenses. The parish is also facing major capital expenditures in the replacement of its HVAC systems throughout the campus buildings and glass replacements in the church sanctuary building. The magnitude of our parish activities and facilities coupled with the age of the buildings and equipment requires continual maintenance to sustain church operations and valued ministries in smooth working order. Fr. Eric's priority has and will continue to be to always provide for the safety and security of everyone on the parish campus.
We also have several desirable improvements whose realization will depend on the actual funds we receive.
As such, these items are not budgeted. These improvements include:
• Drapes in Social Hall and Stage Area
• Social Hall upgrades – sound panel, light controller, LEDs
• Interior and Exterior Signage
• Replace Office Furniture (5 office rotation)
• Landscaping enhancements
• Bell Tower enhancements
• Caulk Building
• Install TV Monitor in conference room
Transfiguration Church has been truly blessed by the time, talent, and treasure contributed by its parishioners throughout its history. We remain deeply grateful for their ongoing generosity and support. Moving forward into the 2023 fiscal year, we are excited about the opportunities to continue to serve the Lord and our parish community.
---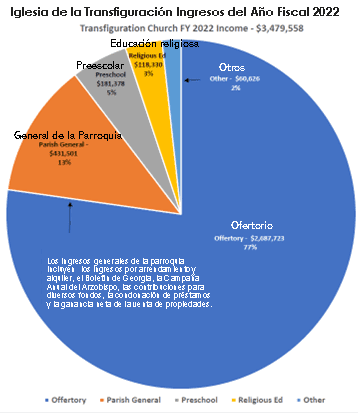 Iglesia de la Transfiguración Resumen de la revisión de actividades
financieras del año fiscal que finaliza el 30 de Junio de 2022
Resultados generales del año fiscal 2022
Para el año fiscal que finalizó el 30 de junio de 2022, los ingresos totales de las actividades parroquiales en la Iglesia de la Transfiguración fueron superados por los gastos totales, lo que resultó en un déficit neto de $29,235 en todas las categorías de segmentos operativos. A continuación, se proporciona un resumen de los resultados financieros de los principales segmentos de actividad tanto para "Ingresos" como para "Gastos".
La parroquia obtuvo un ingreso total de $3,479,558 para el año fiscal, superando su ingreso presupuestado en $716,091. Al mismo tiempo, los gastos parroquiales totales fueron:
$3,508,794 excediendo el presupuesto por $761,446. El aumento de los gastos se debió principalmente a los gastos de capital y reparación en los activos de las Instalaciones y a la compra y renovación de la nueva Rectoría. Algunos de los gastos de capital se anticiparon como se indica en el informe de revisión del resumen financiero del año fiscal anterior. El costo de compra de la nueva rectoría es un elemento no recurrente. Entre los gastos más significativos:
· Compra y Renovación de Nueva Rectoría
· Reemplazo del techo del edificio de la iglesia (oficinas administrativas y salones de clases)
· Sistemas de iluminación, video y equipo de sonido en el templo
· Ventanales de Vidrio – Fases 1 y 2
· Estacionamiento – Recubrimiento superior y Luces exteriores
· Nuevo vehículo de mantenimiento – Gator
· Reemplazo de campanas del campanario
· Nueva Caja de Seguridad y reestructuración del Confesionario
Como se señaló anteriormente, los excedentes de ingresos compensaron en gran medida el excedente de los gastos de capital. Las fuentes de ingresos notables incluyeron:
· Donaciones de Ofertorio
· Otras Colectas Parroquiales (Donaciones extraordinarias, inesperadas)
· Ganancia en Venta de Antiguos Edificios de Rectoría. (El efecto neto de la compra y venta de bienes de rectoría arrojó un resultado positivo)
· Reembolso de la Campaña Anual del Arzobispo
Dado el nivel sustancial de gastos incurridos en las instalaciones de la iglesia y los activos de la rectoría durante el año fiscal que finalizó el 30/6/2022, el déficit neto general de $29,235 (menos del 1% del ingreso total) es notable. Se ha avanzado mucho en la actualización de nuestro campus desde el año pasado sin la necesidad de una campaña capital a través de una sólida administración que emplea estrategias eficientes de mantenimiento y mejora, así como licitaciones competitivas.  
Expectativas para el año fiscal 2023
La parroquia también enfrenta importantes gastos de capital en el reemplazo de sus sistemas HVAC en todos los edificios del campus y reemplazos de vidrios en el edificio del santuario de la iglesia. La magnitud de las actividades e instalaciones de nuestra parroquia, junto con la antigüedad de los edificios y el equipo, requiere un mantenimiento continuo para sostener las operaciones de la iglesia y los valiosos ministerios en un funcionamiento fluido. La prioridad de Padre Eric ha sido y seguirá siendo siempre brindar seguridad y protección a todos en el campus de la parroquia. También tenemos varias mejoras deseables cuya realización dependerá de los fondos reales que recibamos. Como tal, estos artículos no están presupuestados. Estas mejoras incluyen:
· Cortinas en Salón Social y Área del Escenario
· Mejoras en el salón social: panel de sonido, control de luces, LED
· Señalización Interior y Exterior
· Reemplazo de Mobiliario de Oficina (rotación de 5 oficinas)
· Mejoras en los jardines y paisajismo
· Mejoras en el campanario
· Cubrir con masilla las áreas que necesitan
· Instalar monitor de TV en sala de conferencias
La Iglesia de la Transfiguración ha sido verdaderamente bendecida por el tiempo, el talento y el tesoro aportado por sus feligreses a lo largo de su historia. Seguimos profundamente agradecidos por su generosidad y apoyo continuos. Avanzando hacia el año fiscal 2023, estamos entusiasmados con las oportunidades de continuar sirviendo al Señor y a nuestra comunidad parroquial.