This is your weekly update on what we at Adult Faith Formation are being Inspired by. Use these links and updates to help guide you to prayer, deepen your mediations on subjects or ideas, listen to other Catholic Voices around the Church, Archdiocese, Nation and World. There will be notes on Liturgical Seasons, thoughts, books, videos, podcasts, commentaries and service & hospitality opportunities. If you ever wanted to learn more about something – start here.
Peace, Therese and Amy, your AFF team.
---
See our latest newsletter here
---
This week in Adult Faith Formation:
As we look forward to November, the Archdiocese wants to present some information on Faithful Citizenship . Look for the October presentation from TCC's Catholic Social Teaching ministry on the topic.
WATCH The Catholic Social Teaching Program on Faithful Citizenship and the Civilize it Program – plus the ways and whys of forming your conscious during this time of deliberation and voting. TCC-CST-Video-FaithfulCitizenship
---
Liturgy this week:
Did you know you can follow along with daily readings Digitally on the USCCB Website? Here is the link: USCCB
Saints of October:
Link to All the Saints of October: https://www.catholicculture.org/culture/liturgicalyear/overviews/months/10.cfm
October is the month of the Rosary : How to Pray the Rosary
---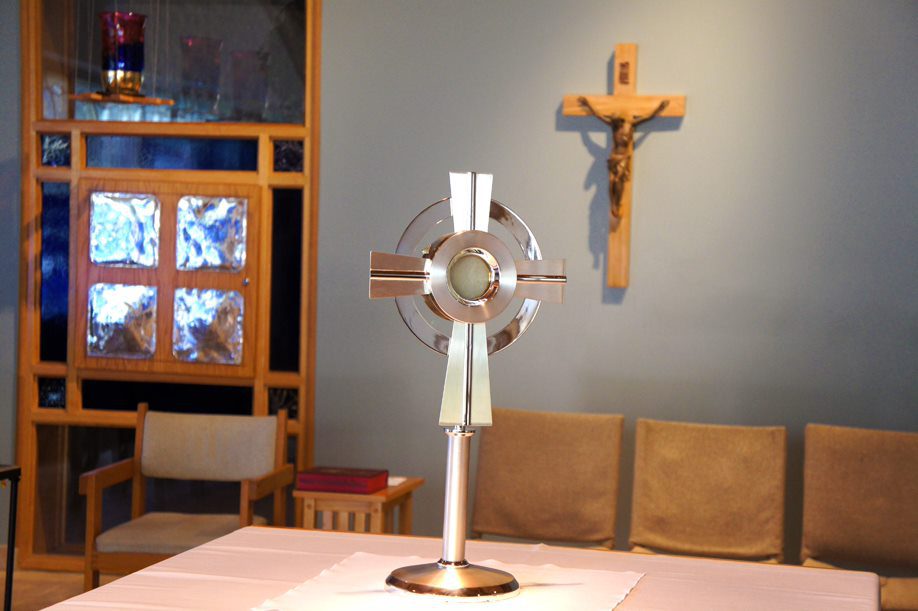 Adoration of the Blessed Sacrament.
Come Spend Some Time with Jesus.
11:45-1:00 Monday – Friday After Daily Mass, in the Sanctuary
---
What are we reading:
On the nightstand this week…
Join the Women in Faith as they dive into this book. (A little Theology of Food -because radical hospitality is the most Catholic mischief .) This book is a reflection on The Eucharist, Sacraments, Hospitality and our Relationship with Food.
Have you ever seen "The Action Bible"? its a graphic novel (Comic book) style presentation of Bible stories. Check it out here.
---
Podcasts we Like this week:
*you can find all of the Transfiguration weekly homilies on our Soundcloud site or on the Media Page on this site under Homilies. *
Voting Catholic Podcast – exploring the issues Catholics should consider.
Word on Fire "Postmodernism" – a topic that we have run into recently. Hear Bishop Barron's thoughts.
Adventures in Imperfect Living: A Catholic Family Podcast.
The Lanky Guys Podcast. A couple of dudes talking about the Sunday readings.
---
How we are serving: Serving
If you didn't hear, Transfiguration commissioned it's newest ministry into the parish on Sunday, September 20 at the 8 AM Mass.
Stephen Ministers are members of our parish who have received 50+ hours of training to minister to people experiencing crisis or going through a difficult time in their life. Every week, a Stephen Minister will meet with them, privately and confidentially, to listen, care, encourage, support and reflect on Christ's
presence in their life.
If you would like to know more, please contact us, StephenMinistry@Transfiguration.com or 770-977-1442 ext. 162.
---
Become an Usher for Mass, Weddings, Funerals, and other events!
the need for many helpful hands and feet to assist in keeping our church safe and the Doors to Transfiguration safely open for anyone who would like to celebrate the blessings in their lives. Please contact us if you are interested or know someone who would be a welcoming face for our parish! All are welcome!! All masses and times need your help! Email: akrakauer@transfiguration.com
How are we loving our neighbor:
---
Did you know that Transfiguration has a Homebound Outreach ?
Know someone who is homebound, living alone or suffering loneliness in this time of being away from community? Please reach out to us at Adult Faith Formation so that we can make sure those folks don't fall through the cracks of life. Right now, our service can be as simple as a card in the mail or a phone call to someone who really needs it. Email :akrakauer@transfiguration.com with that person's name, address, telephone number, or email. We will be happy to pair the homebound with a pen-pal!
---
This week we are looking for stories about how you and your family have come together through food or fun so far this quarantine. Contact the AFF Office to contribute.
In the Community, we still need your support and donations to our various ministries and outreaches, including St Vincent DePaul, Family Promise, Habitat for Humanity, Respect Life, Shelters, and More! Go to the Get Involved page to find a ministry to support.