Our Great Journey
Welcome to our weekly summer blog, designed to share ideas for Living the Gospel at Home. This blog is meant to be interactive, so please share ideas, photos and resources that you have tried at home. 
Today's Gospel, Matthew 13:1-29,  includes the "Parable of the Sower." The Parable of the Sower is a story told by Jesus that teaches us about the condition of our hearts and how we respond to the Word of God. Jesus tells this parable and then tries to explain to his disciples how his words can produce a great harvest of good works.
Knowing Jesus, the disciples immediately realize that a seemingly straightforward parable has a deeper meaning than what we understand on the surface. They also recognize that not everyone will read a more profound message into a simple parable, so they ask Jesus why he teaches like this.
Things to talk about:
Why does Jesus often use parables to teach?
Who is the sower in this parable?
At this point in your life, what kind of soil would you say you are?
Things to do:
In today's Gospel Jesus is calling us to see, hear, grow and produce.
Find some "good soil" in your backyard or community garden and plant seeds of vegetable and herbs that are great to start planting in July. Find out what seeds you can plant now! Take pictures of what you plant to share on this blog.
Use the fruit that grew from a lemon seed to make this delicious lemon bar dessert!
In the Parable of the Sower, a sower scatters seed which falls on four different types of ground. Take a walk in a garden, park, or greenspace and look for hard ground (where plants can't grow at all), stony ground, (where plants wither in the sun) thorny ground (where plants are "choked" by surrounding thorns) and the good ground (which allows plants to grow and produce.) Take pictures of each to share on this blog.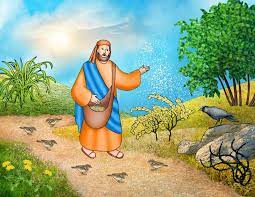 Remember to register for Our Great Journey. The 2023-2024 session begins in August.
Jesus' parable of the sower predicts that Jesus' word will yield a great harvest. This yield, however, does not happen in the gospel narrative. It happens much later, when the followers of Christ begin to spread the good news of his teaching and Resurrection from the dead.
We can be a part of this mission to grow, produce, and spread the Good News. Participate in our Parish Mission on August 11-12 to jump start a renewal and new growth within the parish of Transfiguration. More…