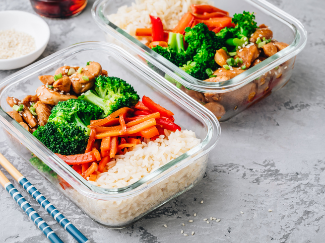 Volunteers to Make Meals for Priests
Transfiguration would like to give back to the priests who give back so much to our parish home. Starting with a home cooked meal (or delicious take out dinner ) to nourish those who nourish us.
Father Eric and Father Rafael extend their thanks to all of you who have provided meals for them over the past several months. Let us continue to show our gratitude to them by providing a meal one day a week on Tuesdays. 
Please consider dropping off a meal for Father Eric, Father Rafael, and Father Vic ( Priest in Residence). They are so appreciative when they receive a home cooked meal once a week. 
Bring your meal to the Parish Office TUESDAY between 10 a.m. and 3 p.m.
The reception volunteers or office staff will store the meals in the Staff Refrigerator for the priests. 
There are a few requests from them:
*Please use Disposable Containers marked "For Priests" (So we don't burden them with returning our dishes – they will recycle as needed)
*Prepare a meal with NO Raw Onion or Coconut. Keep spicy to the mild side.
*Include heating instructions when needed. (or recipes if you'd like to share)
*Say a special prayer for them the nights you serve your meal.
Sign up as an individual, small group or family to show your support.
For more information or for questions, contact Coordinators: Michelle Winkler at 678-458-2115 or Margret Shugart at 678-350-3837.
Para obtener más información en español, llame a la Sra. Gloria Nolasco al 770-977-1442 ext. 152
Alimenta a nuestros pastores
Sirviendo a nuestros Sacerdotes
En Transfiguración nos gustaría consentir a nuestros sacerdotes que tanto se preocupan por nuestra parroquia. Es por eso que nos gustaría su ayuda para proporcionarles una comida para llevar a casa después de Misa los martes. Si desea inscribirse para organizar una comida para el padre Eric y el padre Rafael, puede inscribirse con Gloria. Gracias por mostrar su amor y aprecio de esta manera a nuestros sacerdotes.
Para obtener más información en español, llame a la Sra. Gloria Nolasco al 770-977-1442 ext. 152
GBY.