For a full list of parish activities, check out our calendar.
Check out Our Summer Blog to hear about our experience delivering the Mercy Bags.
Save the Dates
ChrisTeen Mission Trip, July 16-22, 1 space available, 1 adult male chaperone needed. Click HERE Please!
Sunday, June 4 – Trinity Sunday
Nametag Sunday!
Ladies Auxiliary Book Sale after all Masses, Social Hall
8:45 am, OCIA – Adult Ed/OCI Room
Monday, June 5
9:00 am – 4:30 pm, M4Tour
Tuesday, June 6
9:00 am – 4:30 pm, M4Tour
10 am, Tuesday Morning Spirituality, FLC, Bethlehem
3:30 pm, Senior Spirituality, Room 102 and Zoom
Wednesday, June 7
9:00 am – 4:30 pm, M4Tour
10:00 am, Centering Prayer, Room 102 and Zoom
6:30 pm, Volunteer Appreciation Mass & Reception
Thursday, June 8
9:00 am – 4:30 pm, M4Tour
9:45 am, Pathfinders Bible Study, Adult Ed/OCI Room
7:00 pm, Becoming Catholic, Room 105
7:15 pm Men's Bible Study, Bethlehem
Friday, June 9
9:30 am, Women in Faith Summer Study, Adult Ed/OCI Room
6:00 pm, Mustard Seed Ministry Tye-Dye Party, RSVP
Saturday, June 10
Sunday, June 11 – The Solemnity of the Body and Blood of Jesus
8:45 am, OCIA – Adult Ed/OCI Room
---
The Gospel in your Family
The theme for this week is: "Three in One," based on 2 Corinthians 13:11-13 and John 3:16-18, Trinity Sunday. The Trinity is the three Persons united as one God.  The Father, the Son and the Holy Spirit so united in love and manifesting that love to all of humanity forever.  As St. Paul wrote to the people of Corinth to be in relationship with one another, the example of this perfect relationship we find in the Trinity.  Let us work to love one another and give thanks to the Trinity this week..
Some questions for reflection…
Which Person of the Trinity is it easier for you to pray with or to?
What are some images that come to mind when you think of God as the Father? as the Son? as the Holy Spirit?
To learn more about Trinity Sunday and for ideas to celebrate Pentecost with friends and family, subscribe and Follow Our Great Journey Summer Blog. We'd love to hear your thoughts too!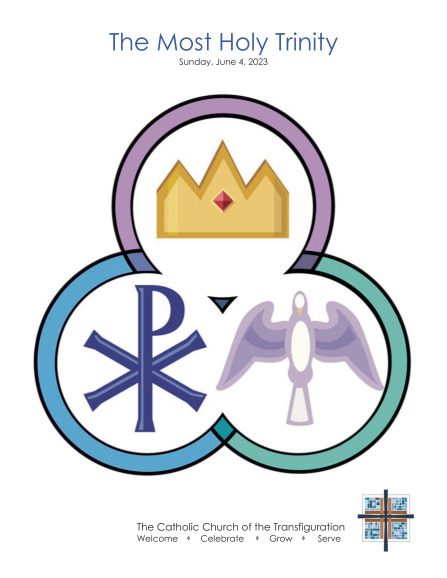 ---
*Childcare is available in the nursery for these Adult Studies. Click HERE to reserve a spot or two… Nursery is available during the 11 am Mass. Read more….