---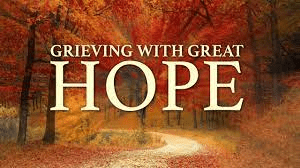 Grieving with Great Hope
Grieving with Great Hope is a FIVE-WEEK grief support program and healing ministry that combines prayerful reflection, practical learning, and personal fellowship.
It is offered for individuals who are grieving the loss of a loved one.
If you have lost a spouse, a child (including pregnancy loss), a grandchild, a parent, another family member, or a friend, you are encouraged to attend.
Sessions will be held from 7:00 p.m. – 9:00 p.m. on five consecutive Thursdays beginning January 26, 2023.
Seating is limited.
---
---
Learn More about FORMED: Sign Up Today for Catholic Media On Demand.
Sign Up for the Monthly Newsletter Here.
Join the conversation on the Adult Faith Formation Social Media Page on Instagram @tccadultfaith
AND join the EVANGELUS by clicking here to get Parish wide and Adult Faith Formation Newsletters and announcements.
---