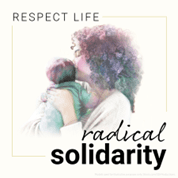 Come and see . . . what our Catholic faith teaches us! Our faith teaches us to respect all life from womb to tomb. Stop by the RESPECT FOR LIFE Ministry table during the month of October to learn more.
Respect Life Ministry and Transfiguration supports this teaching through its many ministries. These teachings and some of our ministries will be highlighted during the month of October. How do you fit in?
October 1 – Walking with Moms in Need (WWMIN) / Baby Bottle Boomerang kickoff to benefit the Hope Center
Life Chains are peaceful, prayerful vigils in solidarity for LIFE.  We supply the posters and prayers.
Saint Peter Chanel: 2p-3p Join us at the corner of Woodstock and Crossville Rds. as we peacefully demonstrate our support for the sanctity of life.
Saint Michael the Archangel: 12n-1:30p Please join this peaceful, prayerful stand for life as we stand in solidarity for LIFE. Come, rain or shine, to St. Michael's front lawn off Arnold Mill Rd. Questions? Call Renee at 678-234-5368
Saint Ann's: 2p-3p Intersection of Johnson's Ferry/Roswell Road – park at Chick Fila
Contact Sharon Lewis for more information: sharonlynnlewis46@gmail.com
October 8 – Saint Vincent de Paul (SVDP) – Feed the hungry, shelter the stranger, clothe the naked
October 15 – 40 Days for Life / Post Abortion Treatment & Healing (PATH)
40 Days for Life
HEALING & SUPPORT OPPORTUNITIES:
October 19: Pregnancy Aid Clinic and St. Andrew's Catholic Church will host – Grief, Mercy & Healing: Real Stories of Abortion Loss
Learn more here: Grief Mercy and Healing PATH
October 20-22: Rachel's Vineyard Retreat
The PATH ministry offers Rachel's Vineyard weekend retreats to both men and women. These healing retreats are available for anyone that has been negatively affected by abortion.
October 22 – End of Life: Suicide, Euthanasia, Capital Punishment
October 29 – Respect for Life Ministry / Baby Bottle Boomerang Collection weekend
Mommies and Babies and Showers, Oh My!

When Respect for Life launched Transfiguration's Walking with Moms (and Dads) in Need Ministry one year ago, May 2022, how could we know the great goodness of Our Lord? With Father Eric's blessing, your generosity, the help of our parish ministries and the surrounding community here is what we have been up to:
• Connecting moms TO resources:
• Medical Care
• Transportation to appointments
• Rental assistance
• Utility assistance
• Building cribs
• Full on moves to another state
• Food assistance
• Legal assistance
• Connecting WITH moms:
• Baby showers
• become a friend
• become a mentor
• been told, "you are my family now"
• become a prayer partner
• Checking in – the "How are you" call
• building cribs / moving furniture
• Laughing, crying, listening
With your prayers and assistance, we have helped 20 families, seen 13 babies born, reunited siblings, cried through some losses, but most importantly, we have seen the power of the Holy Spirit.
We are awaiting the birth of two more babies: one in October and one in November. Join us for our next meeting, Thursday, September 21, 7p, Room 110. Email Karla and Cathy at wwmin@transfiguration.com to receive updates on our next baby shower coming up in September!