Our Great Journey
This week our theme is "What Belongs to God?"/ ¿Qué es de Dios? based on Matthew 22:15-21/ Mateo 22:15-21
Opening Prayer:

Life and Dignity of the Human Person Prayer
All pray the Sign of the Cross
God of all life, Help us to appreciate the great gift that is human life formed in your image, a reflection of your holiness. Help us to recognize you in all whom you have created: children not yet born, families affected by poverty and war, people of different abilities,  people from other lands, and all who are victims of hatred and racism. Help us to bear witness to the dignity of all whom you have created … for every person is fully equal in your loving eyes. May your justice reign forever. Amen.                                                                                                                                                                                                                                                           
Adapted from https://www.usccb.org/prayers/life-and-dignity-human-person-prayer
In addition to our prayers from the heart, our prayer for October is the Act of Contrition. Please pray this prayer daily to learn. This should be one of our nighttime prayers.
Using the Bible, invite a family member to read the Gospel aloud.
Things to talk about:
What is meant by "repay to God what belongs to God"?
What exactly belongs to God?
What are some gifts that God has given to you, and what are some ways you can serve him?
St. Óscar Arnulfo Romero had a preferential option for the poor. Why is it important to help the poor and marginalized?
Things to do:
October is Respect Life Month. Have a family conversation about the principles of Catholic Social Teaching. Click for 2 good resources for children and teens/adults. Discuss how these 7 principles help us to live the Gospel of Jesus Christ.
Block out an hour to helping at Rise Against Hunger on Saturday, November 11, register HERE. This is a meaningful and unforgettable way to show respect for Life and Dignity of the human person.
As a family adopt a family for the St Vincent de Paul Thanksgiving or Christmas Dinner, Read more…
Bring in gently used or new items for the Winter Clothing Drive for the Unsheltered, Read more…
As a family come to the Friday evening Rosary, 7:00 p.m. to pray for peace in our world.
Óscar Arnulfo Romero y Galdámez was born in a small town in El Salvador. From a very early age, Óscar knew he wanted to be a priest. He was ordained a priest for the Diocese of San Salvador in 1942. He quickly became a popular, well-known parish priest, editor of his diocesan newspaper, and eventually, Bishop of Santiago de Maria. In 1975, soldiers raided a village in his diocese and killed many innocent people. Bishop Romero was horrified. At the funerals of these villagers, he spoke about people's human rights and how the military was wrong in its actions. On March 24, 1980, he was gunned down by an unknown assassin while celebrating Mass in a small hospital chapel. The day before, he had asked Salvadoran soldiers to obey God, not the government. On October 14, 2018, he was canonized a saint of the Church.
Closing Prayer
Lord God, thank you for all our blessings. Help us to see the heart of others and help to bring your love and mercy whenever and wherever we can. Amen.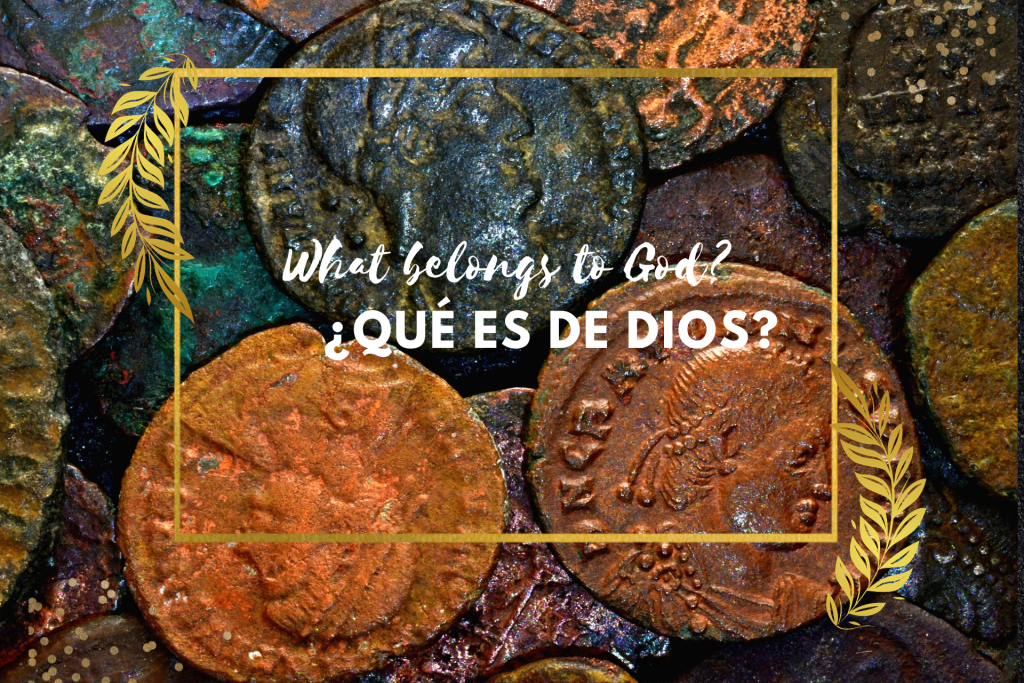 Catholic Insights
Avoiding the question of lawfulness altogether, Jesus answers their question with simple logic. Then, going further still, Jesus tells them that their obligation is to pay to God that which belongs to God.
Jesus' response to the Herodians and Pharisees suggests the ethic that Christians ought to adopt. It reminds us of the importance of keeping things in their proper perspective. Do we attach ourselves to worldly things at the expense of the love and honor that we owe to God? Before making a decision, we should ask ourselves, "How would Jesus respond?"
Did you know that modern Catholic Social Teaching dates back to 1891, when Pope Leo XIII issued the papal encyclical Rerun Novarium? There are 7 Principles of Catholic Social Teaching that focus on social justice for all.
1. Life and dignity of the human person.
2. Call to family, community & participation.
3. Rights and responsibilities.
4. Option for the poor and vulnerable.
5. The dignity of work and the rights of workers.
6. Solidarity.
7. Care for God's creation.
Read more, www.usccb.org.
---
October is Rosary Month. Join us on Friday evenings, 7:00 p.m. to Pray the Rosary for Peace in the Middle East.